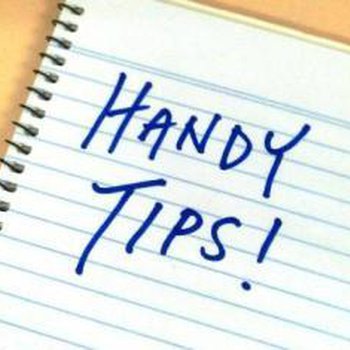 Share tips to make life easier!
All are welcome, the more the merrier!
Open Loop 104
After years of scrubbing burnt on splashes on the inside of a glass oven door (and no, I don't wipe it over regularly, as I should), today I sorted it in five minutes. I used the paint scraper you use on windows for removing dried paint splashes, and over-painted edges. Wonderful!

Toothpaste (Edited)

Prices have risen on everything and the cheap toothpaste I mentioned in another thread is now 50p not as I said previously 'under 50p' it has good reviews and contains the right amount of fluoride as Martin Lewis mentioned recently.

To clean white trainers , freshen plastic containers that have held onions or similar 'smelly food' and if you have one , to clean your piano 🎹 keys.

This discussion is now closed.

Never seen it before but was watching that programme with Stacey Solomon and one of the men helping tidy the house she is working in used hairspray and a soft cloth to remove biro off of the top of a wooden sideboard.

Has anyone used this technique?

If you are staying in a hotel where you have to use a card to power the electric you don't really have to use the room card at all.

Any card of the same size will act the same so you can leave something in your room charging of an evening or a light on when you nip out for your evening meal, to see a show or for a stroll along the waterfront

I actually wasn't aware of this but handy to know'

Cooking vegetables - If the vegetable grows above ground always boil the water before putting in said vegetable
Underground vegetables - always put into cold water then bring to the boil.

Use The Television For Charging
If you happen to forget to take your adapter with you on holiday and cannot charge your phone, you can use a television for charging.

Nowadays, most TVs have USB ports. Just charge your phone by plugging the charging cord in the port behind your TV.

To all my lovely members, wishing you a very happy time with a promising 2023.

click on

Safely thawing frozen water pipes

Thames Water just sent out this useful tip. I've been hoping like mad that the uninsulated water pipe in my unheated back lobby won't freeze this time round - the local stop tap is stuck solid - but this is worth learning, in case of later disaster.

"...how to thaw out your pipes safely:
Fill up your kettle, then find your stop tap and turn off your water
Turn on all your household taps to let the water run out
Make a hot water bottle with your kettle water, wrap in a tea towel and hold it against your frozen pipe (thawing can take a while, so please be patient)
After the pipe has thawed, wipe some kitchen roll along it to see if there are any leaks."

New ball point pens not working.

I've just opened a pack of ball point pens and tried to find one to work, by scribbling over a piece of paper in circles, figure eights and back and forth. Nothing was happening other than managing to shred the paper.

Eventually I found the fourth one started to work. So I knew that the others possibly could. Having tried paper and getting nowhere with the first three I decided that a change of surface might work. Thinking that it might need a courser surface to get the ball rolling I was going to search for some card. But before leaving where I was, I spotted a roll of sellotape. Now that has two surfaces so I thought I'd give it a go.
I stuck an inch or so (sticky side down) to my shredded paper and did a few circles. All of a sudden ink appeared. I tried another that hadn't worked and that started inking up. I tried the third and that worked also.

I can't claim that using sellotape will get your pens working, but it worked for me. All four are working properly. If you have trouble with new ball pens in future, give it a try, it may just work for you also.

I buy a big bottle for use indoors at about £2 but wanted a smaller one, in Superdrug it was £4.30 but the same thing only £1.25 in Boots chemist.

Does your garden suffer from Mole hills?

Apparently a good tip from a local 'sufferer' is to put a musical attachment from a Christmas card inside one of the holes!

This isn't a joke it's advice given in my area., hope it works

When listening to radio station recordings on your video recorder, investigate your manual/menu to see if you can turn off the screen. If not, sit by the screen, and turn the heating down!

Driving along in my car today, I had a very small message flash on the dashboard. It was in green and in the top right hand side corner. I could not read what it said, so I took a mobile picture of it and enlarged it. I had pressed cruise button. Mobiles are a boon for reading small print.

Not sure if this is a suitable post for this group, but for those who didn't realise you can freeze eggs. Just mix them as you would for scrambled and freeze. Once defrosted you can use for cakes etc

Smelly second hand jumper - cured

Last week I bought a lovely thick jumper from a charity shop for £1, nice and cosy for the winter indoors but ... after washing it was smelly.
I soaked it in a vinegar water mix for an hour and washed again and now it is fine
Vinegar to the rescue again.

Reducing domestic appliance running costs

These supposed yearly costs of running domestic appliances aren't as useful as the per use sort that I heard too briefly on the radio recently but it's useful to know which are most expensive to run and relatively how much that cost might rise.
Fortunately, I have neither a dishwasher nor a tumble dryer but I'd better pull out the fridge etc and clean those coils....
https://www.hackneygazette.co.uk/news/how-to-keep-appliance-energy-costs-down-9252406?utm_source=Newsletter&utm_medium=Email&utm_campaign=DM63111

We fried some fish over a week ago. It left the house smelling awful. We had some washing drying on an airer and have had to rewash it. We still keep smelling fish especially when the windows have been shut. The odour seems to have got into the fabric of the house. Any suggestions? I've obviously sprayed air freshener around.

As well as putting the washing-up water in buckets outside the kitchen door, we have started putting a large plastic pudding basin (other containers are available!) under the kitchen taps to collect handwashing and rinsing water.

Highly recommended (Edited)

I don't really like advertising a product in my group and I know that money is really tight for all of us, but, I am so impressed with this product and it really does an amazing job of dusting, picking up dust not just scattering it everywhere. Gives a look of 'just polished' and it so quick and easy. If you can 'fork out' for it you won't be sorry! £5

I've been involved with the repair movement for some years now, although my good intentions about fixing broken stuff massively outrun my rate of repair.
Nevertheless, when wondering whether some invaluable gadget is irretrievably broken or can be fixed, perhaps with some material or tool that I'd never known existed, it helps to find out whether it's fixable. If so, I keep the item and try to fix it in future, rather than throwing it out and replacing it.
The foremost organisation for repairing in the UK is the Restart Project, which invaluably lists all repair events (worldwide). I joined its online repair forum (the Restarters Community) which sends me occasional summaries of recent contributions if I don't visit the website often enough; some of those are really useful.
For instance, I knew about Restart's own Restarter wiki and the American site, iFixit, but there's also a French one with a slightly different focus: La Librairie. Since all are word-searchable (and an internet translator can help non-Francophones use that last one, if the others don't produce results), that increases my chances of not having to invent a means of fixing something. So try searching these if something breaks, do:
https://wiki.restarters.net/Main_Page
https://www.ifixit.com/Guide
https://librairie.ademe.fr/

https://za.investing.com/magazine/these-easy-cleaning-hacks-will-save-you-time-and-money/?utm_source=taboola&utm_medium=cpm&utm_campaign=20255468&utm_term=reach-dailystar&origin=taboola&tp%5Bclick_id%5D=GiDtOKxqKYF8UsujMWX2FUu9G4Bib3lH5VVBJcM_P8l4PyD_p0oo2YS_5pzuydS7AQ&tp%5Bsite_id%5D=1374766&tp%5Bsite%5D=reach-dailystar&tp%5Bts%5D=2022-08-13+05%3A28%3A13&tp%5Bcampaign_id%5D=20255468&tp%5Bad_id%5D=3538082643&tp%5Bcpc%5D=0.0301&im_dars=1x100_3x105_5x394_7x889#tblciGiDtOKxqKYF8UsujMWX2FUu9G4Bib3lH5VVBJcM_P8l4PyD_p0oo2YS_5pzuydS7AQ

Just bought a great gadget from Lakeland.Already removed to garden 3 large spiders, 1 wasp and 2 flies. Hover works well and their is a light on it too. Apart from having to make sure the batteries are charged great buy. Plus no creatures were harmed in this post.

https://www.brewer-world.com/hacks-using-stale-or-expired-beer/

Will try some as I have one stale beer bottle.

On a lovely windy day like today, washing on the line is a joy, but if you're anything like me I do like to tumble dry my towels in the dryer so they are nice and soft. Knowing how expense it is now to use a dryer my tip is turn off your dryer earlier than you would and do not open the door until the whole dryer has gone cold, enough heat inside to carry on drying those towels (or my hubby's underpants, he likes nice soft ones, lol)

Has anyone tried Guinness and lemonade? This makes a very pleasant drink. Also, my god daughter tells me that non alcoholic Guinness is also very good.

Keep a deep bowl or small bucket filled with cold water and added ice cubes, if you have them, and keep placing your hands into the water every now and then making sure you go over your wrists. Cools you down quickly, I find it a great help! take care everyone.

Prevent lollies dripping on hands and clothes.

Just had my favourite lolly, a Solero Exotic. To prevent it dripping everywhere in hot weather, carefully open the stick end of the wrapper, then pull lolly out. Now gently grip the top of the lolly with teeth, and feed it back into the wrapper, pushing the stick down to the end. Now fold the top of the wrapper back on itself to catch the drips.

Save all your tin foil trays from pies and ready meals, these are ideal for cooking onions and mushrooms etc on your BBQ!
Great idea I thought.

Wimbledon lovers! The tennis ball.....

Carrying nails and pins

This useful trick is perfect for doing odd jobs around the house and garden. Cut a slit in the tennis ball and then squeeze it open. You can put in nails and pins and other small items. When you stop squeezing the ball will close. To open, simply squeeze again.