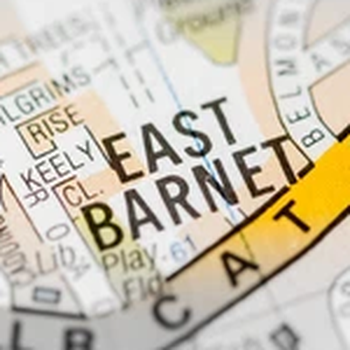 East Barnet
Neighbourhood loop for East Barnet, Greater London
Open Loop 61
To start with I must comment that it looks strange to read I am from east barnet when i thought I live in Southgate but no big deal. Must also comment that I am suddenly an addict. A big time addict not only to cheese and organic red wine but to C.Kay's music. I am very old and yet listen to Capital Extra radio station as a replacement to TV that I cannot afford. In the car it is LBC. Only recently have I decided to listen to music at home to try to get sad thoughts entering my brain box. I am absolutely fascinated by C.Kay's Love Nwantiti. I assumed the lyrics were partly in Spanish due to the Latino rhythm. I was so very wrong and amazed after reading those lyrics in English. So cleverly put together and fun with a slight African beat I discovered this music I cannot get out of my system. But there are different versions and I cannot trace the version I hear on Capital extra which is my favourite. Nor can I find the CD. Just as well as wasting money on anything but my rescued cats should not be happening. At long last my thoughts mostly angry and negative got distracted, with the compliments of C.Kay's music!
However not impressed with myself not focussing on cats in need at all times since this latest discovery!!!

If there is anyone lonely and willing to meet some new friends - you are welcome to join Wednesday Walking Group which meets every Wednesday, weather permitting, at the bandstand outside Waitrose at 1.30. (Stapylton Road, EN5 4QT )
Meetings are free.

Come join us, we all look forward to meeting you! :)

Has Scooploop changed the way one can communicate? It is far from easy for me to find how to when I did not have too much of a problem before.
This is why I make fewer reports about my rescued cats and do not always thank those of you who kindly make donations mostly via Suzy P.
I also have very little time to spare to look into how to deal with Scooploop.
Rehoming has taken much of my time lately as I have been lucky to find 5 first class homes through recommendations.
A few days ago I drove friendly Joycey to her new home in the New Forest near Beaulieu. She will be loved and spoiled there after having been previously abandoned and living rough for a while.
On Monday my little Sharon found at Muswell Hill allotments in a poor condition about 5 years ago went to the vet's for what I thought would be a dental as she was screaming with pain mostly when trying to eat. Sadly Sharon had to be put to sleep as she had a tumour to her face. From a feral kitty she went on to trust me and enjoyed being stroked eventually. She had just been offered a kind home.
Thank you very much for helping me help cats in need.
It has been rather difficult with Long Covid being part of my daily life since March 2020 and more cats than ever let down by irresponsible owners!
All the best to you all!!!

Please be considerate if you are having any building work done!
I am on the receiving end as my new neighbours of 18 months who succeeded my 20 years neighbours from hell have been refurbishing their house on and on. No consideration whatsoever for who lives in the semi next door to them.
It has affected my physical and mental health big time. I cannot cope. There was a break of a few months and now Sunday it has started again. Noise non stop. Anger level passed its maximum. I cannot open any window. The cats are nowhere to be seen as they are not keen on building noise. Once again no warning or information about the noise and how long it will be on for. When I previously texted to ask how long the noise and dust would go on for, it was ignored. For one year 7 days a week there was building noise and often dust from next door. I have lost count of the number of head ache tablets I took. Suffering from Long Covid made it worse as my senses amplified the noise big time.
Their builder came through my loft wall with the big metal beam when they built their loft conversion and denied it was them. They removed all their internal brick walls to replace them with panels. Most of my walls are now cracked. My roof extension got damaged as they walked on it doing their scaffoldings. A lot of dust flew over my side when all their external walls got repointed and on and on…
Not one apology. Of course I am the bad one for complaining.
I cannot cope big time. No point trying to keep the house clean and tidy as it makes me more aware of the damage caused by next door neighbours. Yet when a fox went to the toilet on their wheelie bin they made me clean it up blaming my cats and threatened me should it happen again… cats don't go toilet on top of smelly wheelie bins!
Please consider your neighbours if you are having building work carried out. Please inform them and communicate.
Pay for window cleaning also.

Love hurts... (Edited)

When you lose your favourite cat and your cats are your only family!
Then you realise more than ever how much he meant to you. My beautiful white and ginger Luigi got hit by a car either on the road or on the pavement if a car was driving onto their drive. I had never seen him go across the road or on the pavement.
He was about 6 years old and with me since he was 6 months old. He did not get rehomed because my other rescued cats loved him so much. A few years back he was to go to a new home. As I turned up with the carrier four of his best friends held on to him giving me a look that said no way was Luigi going anywhere. I gave it another try a few hours later and very much the same so Luigi had to stay. His beautiful mum was killed by my nasty neighbour. Luigi was such a kind cat who did not deserve to die yet. His friends are missing him big time. I am missing him big time. Nothing good ever happens. Constant grief and sad news in this awful world.

For all donations of goods I regularly take to car boot sales for fund raising to help with my many rescued kitties. Selling is slow as so many sellers and buyers are far from generous One 2/3 years old was finally put to sleep on Sunday after one year of trying to make her healthier. Sadly her time had come. She was a feral kitty who ended up trusting me and did not want to leave the room she was in. Rehoming is rather slow as some of the cats have special needs and need very understanding and caring homes. Some would be happy in a garden with comfi shelter and good food.
But most people prefer kittens who are kittens only for a few months.
Rarely a day when not asked to help a cat in need left behind by irresponsible owners or born in gardens or allotments.
Too many cats everywhere. All rescues are full.

Date: 02.06.2021. Time: 08:00

Location: Stapylton Road

With its long and fascinating history (dating back to the 12th century), Barnet's traditional food market is a lively community hub. Now located ...

Once again thank you to those of you who help me help cats in need. Many people have recently acquired new pets. Sadly only a small fraction will be kept as family members for the rest of their life with their initial adopters. Therefore more cats dumped and unwanted.
Often with health issues...
Just got a call right now of help wanted with another one. Rarely a day without call for help with poor cats. Better go and help

Good news for theatre lovers - live theatre is coming back to Shakespeare's Globe from May 19!

'From May 19, Shakespeare's Globe will be presenting live productions including 'A Midsummer Night's Dream', 'Romeo & Juliet' and 'Twelfth Night'. New safety measure have been introduced at the theatre, with staggered arrival times, allocated entrances, no intervals, pre-ordered drinks, and, for the initial period of opening, seating in the Yard (normally standing-only)'.

There is possibility to book the tickets via website: https://www.shakespearesglobe.com/discover/blogs-and-features/2021/03/24/announcing-summer-2021-at-the-globe/

Two kind fosterers with quiet homes needed for shy cats. All necessary accessories and food and litter provided. No other pets or young children.

I'd like to plan something special for my mum on Mother's Day this year. Any ideas please?

Date: 13.02.2021. Time: 09:30

Location: Zoom

Chinese New Year family fun activities: We warmly invite families, friends, children to join us for the celebration of the Year of OX. 9:30am-12p...

Big thank you to those of you who have offered cat food donations. Always much appreciated. A few boxes of flea products also collected to go to dog rescue.
My friendly 2 year old Mario has an issue with keeping food down. Would have been rehomed if did not have such problem. Tests have not revealed the nature of the problem. Single protein food has helped so he is keeping to either tins of Thrive chicken or tins of Mjamjam Kangaroo meat. He can only eat small amounts which is not enough for him.
Very sad as he is so friendly and deserves to move to a kind loving home. Not many keen on a cat occasionally sick.
Donations from £1 a month very welcome as Suzy P still kindly dealing with fundraising. No more fundraising via car boot sales till probably year 3000 yet stock waiting to be sold.
Hoping you all are safe and well.
Thanks again for helping me help cats in need.
Going to try to catch more this afternoon let down by private tenants...

Lockdown activity ideas for 8 year old

My grandaughter is very bored. Has anyone got some creative ideas for doing something a bit different for a 8 year old's girl during this lockdown? She's finding it all a bit tough at the moment and I'd love to cheer her up by doing something other than our usual long walk.

Very sad and worrying to see staff and customers wearing a mask below their nose or mouth... yet they are wearing a mask!
Avoiding supermarkets big time such as N14 Asda where even the security man amongst others wear a mask below the nose. Some people feel the need to turn up with someone else when they should go by themselves.
At the mini Tesco Hampden Square N14 the manager also thinks best to wear his mask below his nose. I had a word with him and now if he sees me he pulls it up over his nose. Customers without masks can shop there no problem.
Receiving parcels and mail is far from safe either as all would have been handled by several people.
And with all this danger around I have been told (not asked) to attend jury service for a minimum of two weeks when one is told to stay safe and stay at home. The option is a heavy fine following a court appearance...
I did respond mentioning that I run a cat rescue by myself so I do not have the time nor the energy but I was told this is no excuse. At all times I am worn out and never have enough time to get in with all my tasks so this jury service is not going to help. I don't want to use public transport or taxi for obvious reasons and there will be nowhere to park. I don't want to be in a room with other people at present.
Nothing but grief in this sad world!

Not bothered myself but feeling sad for others.
Always try to ignore Xmas but not so easy not to celebrate. When I see what happens to the poor turkeys prior to ending up on celebration tables I find it extremely upsetting. Don't know why some cruelty is legal. I am still not religious, still don't believe in father Xmas, still don't have children and still don't eat turkeys so ideally would rather not celebrate it.
Some time back I would go and help out at disabled people's home in Edgware and get them to have some fun. Now no time for that as the cats are the priority.
Hope all those of you who have helped me help cats in need will have under present circumstances a good Xmas but mostly a safe one.
When 2021 comes it will be more appropriate to wish people a safe New Year than a happy one I guess. Will not be happy for many. Hope not too many people think bringing children to this world is a good idea... too much of a challenge. Too much sadness!!!
All the best to everyone

Can anyone recommend comfortable and efficient earplugs used for sleeping please? It is urgent. So many to chose from but some useless

Just had a call from an old lady whose 17 year old cat urgently needs a serious dental. As the rspca clinic she is registered with is closed she got a quote from a private vet. The cost is ridiculously high and no way can she afford it. She asked me to help her cat but I cannot as I have vet fees of my own to pay on regular basis. No luck with PDSA or BLUE CROSS as they are too busy or closed.
Already I am caring for my cats and many strays and feral with the compliments of equity release I cannot afford paying for an old lady's vet fees as much as I would like to.
In the meantime the poor cat is suffering!

How bad it looks like in your local supermarkets?
https://www.bmmagazine.co.uk/news/panic-buyers-strip-shelves-as-england-prepares-for-lockdown/

Found at a mosque with very thick glue over her lower back this beautiful pussycat was in serious need of help. The area of her fur covered in glue has now been shaved off and the vet prescribed drops and tablets for her ear infection. Had flea and worm treatment. She is supposed to be 4or 5 years old. Rather sad to see this abuse.
Isabelle was not microchipped and was definitely owned at some stage as she is friendly. She would benefit from a very kind fosterer. Nasty rescue who previously created various grief may not apply. They know who they are. They are the rescue who recently got reported as having rehomed a young cat full of fleas, not neutered and unwell, etc...
Isabelle needs a five star forever home once she is fit and well and vaccinated.

Royal Ballet 'Back on Stage' new show

Date: 09.10.2020. Time: 19:30

Location: Online

Royal Ballet gets back on the Royal Opera House stage with new show, 'Back on Stage', a full-on one-night-only extravaganza, with sumptuous design ...

We're pausing the market but we'll be back for a big Christmas event.

Hampton Market

https://www.scooploop.com/thread/hampton-market

We're back this Saturday! with new traders, Carribean sauces, a new butcher, wine infused cheese and much more this week.

https://www.scooploop.com/thread/hampton-food-market

We're back again with bread, cheese, coffee returns! street food and more!

https://www.scooploop.com/thread/hampton-food-market

We're open this Saturday 11-4 St Mary's Hampton CE Primary School.

Oldfield Road

Frieze Sculpture's outdoor art in Regent's Park

Date: 05.10.2020. Time: 09:00

Location: Regent's Park

The sculpture trail will take the same format as other years, with featured works selected by the director of programme at Yorkshire Sculpture Park...

Hampton Food market (Edited)

Date: 05.09.2020. Time: 11:00

Location: st mary's CE Primary School Hampton

Food market every Saturday selling bread, cakes, coffee, organic meat, street food and more. Free parking aswell!

Hampton market (Edited)

Food Market
Every saturday
11-4
St Mary's Hampton CE Primary School
Oldfield Rd, Hampton TW12 2HP
Back open on the first Saturday of September

Map reveals the oldest restaurants on the planet

Really interesting map! it displays the oldest restaurant in nearly every country on the planet, from Wilton's in London, which has been dishing up seafood since 1742, to The White Horse Tavern in Rhode Island, USA, which has been open since 1673 and holds the title of the oldest restaurant in North America. Worth to have a look:

https://www.netcredit.com/blog/oldest-restaurant-in-every-country/

Return of Regent's Park's Open Air Theatre

Regent's Park Open Air theatre is planning to reopen in August with an outdoor concert production of 'Jesus Christ Superstar'. 'Jesus Christ Superstar: The Concert' will run from August 14 to September 27 with 70 performances, Tuesdays to Sundays.
Booking for 'Jesus Christ Superstar: The Concert' opens today here: https://openairtheatre.queue-it.net/?c=openairtheatre&e=jcstheconcertpublic&t=https%3A%2F%2Fopenairtheatre.com%2Fproduction%2Fjesus-christ-superstar-the-concert&cid=en-GB

Lately unfortunately my anger level had reached the top of the scale with the compliments of people proud of themselves hiding behind screens... they know who they are
So my killing instincts helped shrink that level down. I do not care about cruelty and do not eat animals or fish for that reason. Yet I take great pleasure in using The Executioner gadget to kill flies and mosquitoes. It takes practise to achieve a result and improve one's technique. The latest machines would be best for anger relief if one could add the name of the culprit responsible for negative state of mind onto it. As the poor insect gets zapped that name would flash up having named it after the culprits. Better still an option of adding a picture of the culprits would create so much satisfaction as the insect gets zapped and the pic flashes prior to disappearing following a report as "dead"..

Doing your very best for a small disabled kitten! Such a happy little chap! He deserved a chance of getting better...

And today as I was on top of a ladder against a brick wall part of the day observing and waiting for small feral kittens to get into the trap I was fascinated by the tall blackberry bush adjoining me. All various stages of growth from flowers to ripe fruit made me once again admire and try to understand nature. Why wasn't it all at the same stage?
No pics as I did not want to move even one finger...

Were collected this afternoon and evening from where I was attacked last year by idiots who had managed to grab the trap from me to release a feral cat. The kittens are not healthy nor are most of the adults. Back there early in the morning to carry on hopefully before a woman with mental health issues who lives nearby turns up to cause grief.

Wants to thank those of you who helped with the costs of his three operations. He now lives with a new family and is very much loved and spoiled. This lovely pussycat has become very confident and is not bothered having now only one eye. His fosterer did a great job taking care of him and he is now with his kind forever home. Some of you had commented earlier pictures of when he was found were not very clear. It was true as he was camera shy I suppose. Thank you also to those of you who enquired how he is doing.

To those of you who enquired about how my beautiful Melissa is doing after her adventure.
She is now out of the vet's who did their best for her. She had suffered a bad trauma to her mouth. She is now minus 13 teeth.
She weighs only 3kgs when a month ago she weighed over 5kgs.
She is a little confused. She is eating well and enjoying her food.
I did not know I loved her that much till she went missing...
Love surely hurts.

With ongoing screen stalking around me I also have had the pleasure of street stalking. Two different cars and female drivers on two different days were seen parked opposite my house offering unnecessary nasty looks and checking out the car I was going to. Registration numbers were taken and reported.
The neighbours have been asked to make notes and take pictures of any more. The police takes very seriously such matters and to my surprise also screen stalking.
What next?
Is someone after abusing my cats, my property or me?
More security cameras must be fitted not to let the culprits get away with such invasion of privacy as my address was recently acquired by people who were desperate to find it.
The police want reports of any new developments.
I would rather spend my money on helping cats in need than on having to add more security to the house!
I also prefer to spend all my time helping cats than dealing with rif raf people with no understanding of kindness and doing one's best for all pets and people.

Beatrice and the Rescue Cats (Edited)

https://www.scooploop.com/thread/beatrice-and-the-rescue-cats-3

Please help if you can. Every little bit helps feed stray cats. xx

Hi! I would be very interested to know what these 'stacks' are? I have seen a lot of them around the area but for the life of me cannot fathom what they are for.

Does anyone has any suggestions?? Many thanks!