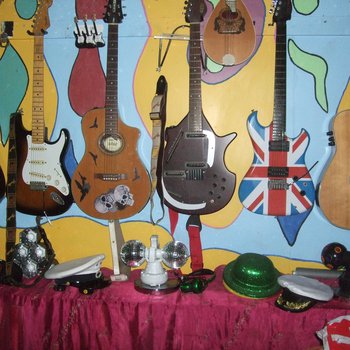 Musicians, singers, songwriters, classic albums
Local people who want to get together play, write, record, or just talk music from the latest style to the old classic albums get local musicians together without having to form a group, to play and discuss classic albums and open people's minds to a different genre
Open Loop 32
For more reasons than one. Hope the link works.

https://www.instagram.com/reel/CsJsILQP1sU/?igshid=MzRlODBiNWFlZA==

Nile Rogers and Chic, known for their disco music but this track is really smooth and shows his beautiful guitar playing. What do you think?

https://youtu.be/kdCaBvN4GcE

Wonder if they're discussing forming a new tour together?

PS. Cliff and Marty if you weren't sure 😎.

I was so sad to find out that Freya Ridings was unable to take her place on the stage at the Coronation concert tonight after becoming unwell. This I felt , would have been such a great honour for her and it must be so very upsetting for her not to be there .

https://youtu.be/H-3rxh8kZHE

After eight years Ed wins the case against those claiming he stole music from a Marvin Gaye recording and misses relatives funeral due to the hearing

https://www.dailymail.co.uk/news/article-12047699/Ed-Sheeran-CLEARED-allegations-hit-Thinking-Loud-copied-Marvin-Gayes-Lets-On.html?ico=related-replace

Thought I'd share this beautiful song sung by Jack Jones to his daughter in the audience.

https://www.youtube.com/watch?v=jPEx30VlnQA

https://youtu.be/cAiBfyVC4Rg

To mark his sad death in this last week, one of his most famous songs from the film he starred in 'Island in the Sun'

A wonderful two day concert starting today at the Hollywood Bowl with Willie performing himself on both days

https://eu.usatoday.com/story/entertainment/music/2023/04/29/willie-nelson-90th-birthday-concert-best-moments/11754882002/

Lead singer was in the 70's group The Sweet.
https://www.youtube.com/watch?v=VR3Auz4Cwmk

Amazing vocal performasnce on X Factor USA (Edited)

Have a listen to the video down a bit on the page - black guy with denim shirt.

https://viral-news.online/17-yr-old-shocks-with-his-deep-country-voice-but-when-he-grins-everyone-loses-it/?fbclid=IwAR3kT_r8kBs-5_HuMwA3I5xqJWLWqeYfK_JmDNPuBBtq3a0gogoi2bRXGus

I had never noticed the songs of Freya Riding until posted by another member of our music group on a thread in another group. I have to agree this lady's voice is truly beautiful and noted the hundreds of comments she receives on YouTube about how her songs make people feel I was amazed

https://youtu.be/-RT3uFugS0k

It seems some feel she is sadly one of our most underrated singers.

Something A Little Different; City of Angels (Edited)

This is a stage musical - yes, yes, I know, but hold on …

I've been lucky enough to play this score for performance twice, both for amateur productions, but, it has to be said, both very high quality amateur productions. The first time was at Questors Theatre in Ealing. We had one of the largest bands that I'd played in for an amateur show; about seventeen players or thereabouts. Most of the blowers were from the RAF band who were relatively local, bolstered by a couple of lads from the Scots Guards band and topped off by sundry ne'er-do-wells known to myself and, doubtless, the local constabulary, on keys, bass and guitar. I remember the band call, in the upstairs cafe at Questors, got pretty crowded, having attracted the attention of people who were working elsewhere in the theatre on unrelated projects. In performance, we were visible on stage, as part of the action. We became known - affectionately - as the Muppet Band, as a large number of us used to sit back at the end of "Double Talk" nodding sagely at the quality of writing. If you're not familiar with the Muppet Band, aka The Electric Mayhem Orchestra, have a look on YouTube.

The second time I played it was with a much smaller ensemble - about 9 players, I think, in a smaller venue (Hampton Hill Theatre), but it still worked.

This remains the only album that I have downloaded or bought for "work" that I play for entertainment. IMHO, Cy Coleman's score captures the L.A. of the late 40s in the same way as Bernstein's "West Side Story" captures the New York of the late 50s.

The basic premise of the show is the relationship between the writer and his creation and a double plot runs throughout. The libretto is a kind of tongue-in-cheek nod to the books of Raymond Chandler and Dashiell Hammett, utilising that sort of studied laconic street wit of the Private Detective and the larger than life characters that inhabited the city in that era.

It had a brief run in the West End before lock-down and was the last show we saw before everything closed. Anyway, grab a Margarita and your favourite squeeze, take a load off and kick back …

YouTube : https://youtu.be/weDpfvdqb-s
Spotify : https://open.spotify.com/album/5wMQwqYhIXHYNaTe8Ye4Oq?si=5GZ0IjMbQNmZ4wWu3rXDAw
Discogs : https://www.discogs.com/Cy-Coleman-David-Zippel-City-of-Angels-Original-London-Cast-Recording/release/11655178

Stevie Wonder, and that time I took an Escort up a mountain - twice. (Edited)

Way back in 1976, I drove round Europe in a MkI Ford Escort 1100 with a mate. I don't know what possessed me, but the car survived 2 trips through the alps, in between which we made it down as far as Naples. Sadly the friendship didn't stand the test of close quarters living for an extended period of time. However, at the outset, we were optimistic, and bolted a cassette player (remember them?) on to the dash, assembled a bunch of tapes, bunged a tent in the boot and off we toddled. This was in my collection, along with Fulfillingness' First Finale and some other stuff, which I may dig up …

Released in 1973 - that's 50 years ago - and it still kicks ass.

YouTube : https://youtube.com/playlist?list=OLAK5uy_lhH2tH_BEiKMkDmYqfFQqzNTo7C_qf0FE
Spotify : https://open.spotify.com/album/5jgI8Eminx9MmLBontDWq8?si=1IH8_HRXRlChWQJ6lygR3w
Discogs : https://www.discogs.com/master/86466-Stevie-Wonder-Innervisions

No, not him of course 😎. Napoleon XIV at age 84

https://www.youtube.com/watch?v=hnzHtm1jhL4

Must rank as one of the wierdest hits from the 1960s (or from any time)

I thought I'd have a go at posting here. I belong to another WhatsApp group who do music sharing like this and i've simply copied a post I did for them a while ago. They use a website called Discogs for referencing, so I've included that link.

Happy to get comments

So, with summer on the doorstep, I thought I'd take the liberty of inviting you to consider a little 70s Soul. The album is Three Plus Three, by The Isley Brothers.

YouTube : https://www.youtube.com/playlist?list=PL26tni6JWSPtCUWcHsRW1p89ETYMZhkXT
Discogs : https://www.discogs.com/The-Isley-Brothers-3-3/master/82584
Spotify : https://open.spotify.com/album/27eI33obJuyKebMTxAJJam?si=OrE5s-OeQpOoMpVZMM8pKA

The original Isley Brothers were a family vocal trio from Cincinnati. The addition of two younger brothers and a brother -in-law later gave rise to the album name and the band which lasted for, I think, seven decades in various configurations. Interestingly, in the UK two of their earlier hits achieved recognition through cover performances; "Shout!", written in 1959 and covered brilliantly by Lulu in 1964 and "Twist and Shout", which they themselves had covered in 1962, was subsequently covered by the Beatles in 1963, and included on the album "Please Please Me".

This album also contains one notable cover, being "Summer Breeze". written by Seals and Crofts in 1972 (see https://youtu.be/BNC91HpDrPI)

I first came across the Isley Brothers whilst listening to pirate radio on my transistor radio on my paper round sometime around 1968. The station was Radio London, aka "Wonderful Radio London"' or "The Big L" (see https://en.wikipedia.org/wiki/Wonderful_Radio_London). The paper round was Fyfield Road and Hillside Gardens in Walthamstow and the song was "This Ol' Heart of mine" (https://youtu.be/U_9M6kRfJes), which I think was already a couple of years old by the time I heard it broadcast. It was a tantalising mix of pathos and danceability, using a chord sequence that I though was quite sophisticated. I didn't think you could do that.

My older sister introduced me to this album when I stayed with her and her fella in Brighton for a couple of weeks in 1973. Her chap was an artist - a good one at that - and a guitar player. It was a shared house and very hippy. Lots of patchouli and funny fags. I was also introduced to Bob Marley and Santana that week and I may offer something from either, or both, at some point.

I would defy anyone not to have a bop to "That Lady", but, anyway, grab your beloved, a tall glass of something cool and have a go at this …

My wife likes country music and here's one of her favourites

Very touching

https://youtu.be/AxFdeZER8Eg

Just seen this. It's John Fogerty with his two sons and his daughter performing Arlo Guthrie's City of New Orleans on a farm. The group is called Fogerty's Factory and they're about to tour in the US. Love Fogerty.

https://www.ganjing.com/video/1fl1jdm630b1eyEDajvdQ9rIm1pu1c?fbclid=IwAR1GubYY6LRKg9s7lZHMhCCif-0mwHKhxh2KFsLdH0B2SST3u18oStO9nUI

Thanks for the comments on the last post - it's good to know we're not "shouting into the void", as it were. I have quite a few of these that I'm more than happy to share here. My tastes are quite broad, having started my musical "career" (written with a wry smile) as a brass player. I posted this one on the other group last year when we were experiencing extraordinary temperatures.

"With all the references back to the summer of 1976, I was trying to work out what was in my record collection at that time. One of the biggest hits of that year, "I'm Not In Love", by 10 cc came from this album. Whenever I hear them, I'm always impressed with their musicianship. Of the original line-up, only Grahame Gouldman (bass guitar) continues to perform live, with the "10c.c. Touring Band". I think Kevin Godley went into production, but I'm not sure what happened to the other two.

BTW, there is a bit of a cheeky track on here; "Head Room". Feel free to skip past it if sexual innuendo isn't to your taste, but it is quite funny … "

10c.c. "How Dare You"

YouTube : https://youtube.com/playlist?list=PLsAa4RFXVnxg2FSdN7U_ziUDy7Bg28yFM
Spotify : https://open.spotify.com/album/3NdgPq01qSa5PP5mpaKuV4?si=8yY2hselQDGrkkbOFRNq2w
Discogs : https://www.discogs.com/master/30531-10cc-How-Dare-You

Some people may remember the Irish group The Chieftains' version which was the score for the film ' Barry Lyndon' This one is by jazz musician Bob James which I think is rather beautiful. It changes from traditional through orchestral, reggae and a rather esoteric ending. It's quite long but if you fancy listening I'd be interested in what you think.
https://youtu.be/FcTBp2rl5-w

The last record he will ever play on the BBC

This is how he said goodbye

https://youtu.be/tAmiVJxl-Z0

Same here (Edited)

A special record from Brad Paisley with a guest

The President of the Ukraine 🇺🇦

https://youtu.be/byqt2Olip3A

I'd bet no one has heard of this lady before. She recorded this song about walking in a subway tunnel in 1958 when still in high school in NYC. She sang the Ambrose bit "keep walking" herself in a deep voice. Was a fair sized hit on the Billboard charts. Worth a listen:

https://www.youtube.com/watch?v=vNuAKOBl7C8

Can you believe this is not Roy Orbison himself 😎

https://www.youtube.com/watch?v=PsAOf1n0Zn4

Songs that get you singing something else

I expect we all get times when a song leads you to thinking of, singing or humming another due to its similarity. The other day, I heard Baby, take me in your arms by Jefferson for teh first time in ages and was struck by how much the main melody had been used by Girls Aloud in The Promise. Seee what you think.

https://www.youtube.com/watch?v=7jEDm6CvTf8

Anyone got any other examples of this to share?

Anyone watch this on the BBC last week? He was a prolific song writer along with Brian and Eddie Holland. Worth a watch if you love soul and Tamla Motown music.

https://www.bbc.co.uk/iplayer/episode/m001gqgm/motown-master-lamont-dozier-at-the-bbc

Listening to the radio this afternoon I heard this wonderful version of wrecking ball with Dolly and her God daughter Miley Cyrus so I looked it up on YouTube to share it with the group. Even better to see them singing that and I will always love you. Not sure if all of it will play as videos sometimes stop after 2 minutes but if so, please watch it on YouTube

Happy birthday Dolly

https://youtu.be/SEdAFDl_2g4

21st Century Folk (Edited)

Featured on tv and available on BBC Sounds and YouTube.

Five new songs written about people in the North East of England . Sharing their stories. their lives, their losses and their achievements.

A Doctor who has served the NHS for 50 years, a Mother who started a charity after losing her daughter, an lady with Autism who runs Dark Sky Sleepovers for children with autism are three of them.