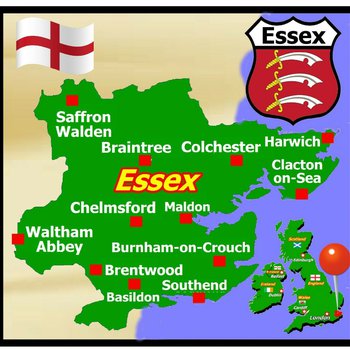 Essex
Any general news relating to Essex.
Open Loop 358
The Chelmsford Takeover is a brand new event taking place in the city centre on Saturday 18 March 2023, 10am – 4pm. The event will witness Chelmsford High Street come to life with familiar heroes, characters and show cars from the big Screen and TV, alongside various activities and workshops.

http://bit.ly/3m8neYr

Carers and Caring

Here is one of Scooploop's newer loops that you may find helpful/interesting:

https://bit.ly/3IE9Ra7

https://news.sky.com/story/human-remains-found-in-essex-pond-likely-there-for-several-weeks-as-murder-investigation-launched-12779206

This discussion is now closed.

If you live within a reasonable distance of Southend, Basildon or Broomfield (Chelmsford) hospitals, you may be interested in hosting a doctor or nurse in your home if they have come from abroad to work for the NHS. You'll receive a tax-free income while they are staying with you, and you'll also be paid the first three months' rent upfront.
If you're interested, you can express an interest in hosting at https://bit.ly/3DDtKNo and someone will be in touch to tell you more.

This discussion is now closed.

A Night With Paul Mayhew Archer - Billericay Sat, 22 Oct 2022, 7.30pm

Many of you will know Paul Mayhew Archer as the co-writer of The Vicar of Dibley and Mrs Browns Boys, more recently he has become an incredible advocate for the Parkinson's community, since his diagnosis in 2011. He is a role model for so many people with the condition, trusted to speak honestly about what living with Parkinson's means for him and admired for his dedication to remain positive in the face of adversity.


https://bit.ly/3F4EXHW

The Essex Is United Winter Guide (Edited)

The Essex Is United Winter Guide is full of information about local voluntary organisations, foodbanks, saving energy, and much more.
You can read it or download it at:

https://bit.ly/3VsYkjt

Asda £1 soup, roll and coffe in Nov/Dec for OAPs. (Edited)

Throughout November and December Asda is offering people aged 60 and over the chance to enjoy soup, a roll and unlimited tea and coffees for just £1 in any of their 205 cafes.

https://bit.ly/3Vt8wZ9

Please look out for this Range Rover which was stolen from Benfleet yesterday.