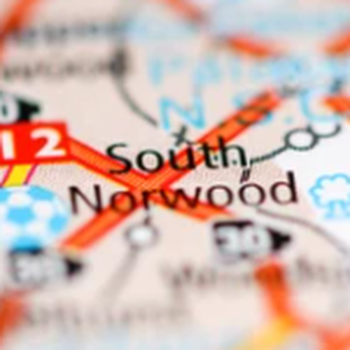 South Norwood
Neighbourhood loop for South Norwood, Greater London
Open Loop 127
Come and join in with our our fun and friendly tango classes, every Tuesday evening from 8pm in the heart of SE25. Our modern teaching style helps to make sure that everything is explained in a way you can understand, and we play music that you know and love which makes you want to dance.





Croydon Youth Theatre has a purpose-built dance studio with a wooden floor, a mirrored wall, a barre, and easy access. There is off-street parking, acc , and is an ideal place to spend an hour or two learning this fun and expressive dance style.





Beginners are always welcome at our classes, whatever your dance experience... even if you have never danced a step before.





For further information visit:


https://tangosynthesis.dance/diaryentry.php?id=468

Hi all

Thanks for your support and messages. Please make sure you keep your pets indoors at night and those who have rabbits living in the garden, please make sure your hutch is mega secure. Foxes will dig for prey.

Tino hasn't been home and I found half of his tail in the garden yesterday eve. I'm devastated and I don't think he'll return home.

I was in my garden this morning and saw a/the fox that attacked my cat try and get my neighbours cat. They're brazen at the moment. They're hungry and vicious with parks closed and food sparse and Cubs to feed.

Apparently foxes hate the scent of lemons and olbas oil.

Thanks again for you support and kind messages.

RIP Tino Mc Weeno.

Karen

Hi all

My cat, called Tino, is missing since yesterday morning. I'm presuming he's injured as there was blood specs on my decking and I found some fur in the garden. He has long grey hair. He's 15 years old. He's a real homebody and spends his time in either mine or my neighbours garden or our houses. He never strays far at all. He sits on my neighbours windowsill waiting for her to let him in in the mornings. Can you please look in your garden/shed/bushes for him.

He's got an overactive thyroid so he's constantly after food (I just picked up his medicine on Monday).

My son heard a commotion yesterday morning in the garden at 6am and looked outside but didn't see anything. I know there were foxes in the garden.

I'm on woodside green SE25. Latest pic of him.

Thanks in advance.

Karen

This discussion is now closed.

The Community Kitchen in South Norwood, is doing a lot of food deliveries during the lockdown and would appreciate if anybody has any bag carriers that they could use to deliver the food. Plastic bags, paper bags... Anything helps.


If you do, please bring them to South Norwood Baptist Church on Tuesday or Saturday between 9.30 and 12.30


The address is 2 Oliver Ave, South Norwood, London SE25 6TY


Thank you for your help.

Do you have an old Android device or ipad you could donate to charity? The Royal Hospital for Neuro-disability in Putney has launched a Stay Connected appeal to help our patients stay in touch with their family and friends via video messaging during the covid-19 restrictions. More information on how to donate an old device is on the hospital website. http://www.rhn.org.uk/coronavirus/staying-connected/

https://www.scooploop.com/thread/donate-your-old-tech-to-charity

Good morning

Could anyone recommend a 'Traditional' window cleaner, for the South Norwood/Thornton Heath area? Not interested in those who use water at the end of a broom thanks; really would like a cleaner who uses a bucket and cloth, where they can get into the corners and the window sills/frames.

Many thanks in advance.

Hi All,
Living close to Norwood Junction station and my broadband speeds are terrible! Most providers such as TalkTalk and BT can only offer 1-3MB download speeds! Wondering which providers others are with and if you face the same problem? Sadly fibre isn't available in this area, I wonder when it will be....
Thanks in advance for your help!