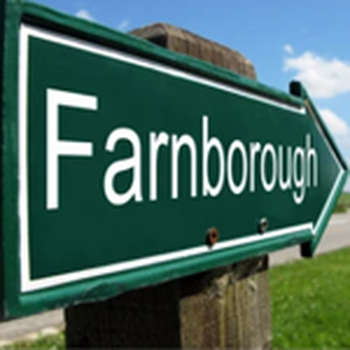 Farnborough
Neighbourhood loop for Farnborough, Greater London
Open Loop 30
Pease try and use the Mission Cafe in Bromley. Its in the Mall opposite where Argos used to be. It is Charity based not a chain. It is large and comfortable with a large varied menue. It is dementia and wheelchair friendly and has disabled toilets. The staff are friendly and there is waitresses service.

Had a card through the letterbox today from these people. Says a surveyor will call next week to talk about home efficiency. They are offering free boilers, cavity wall and loft insulation.
Sounds too good to be true.
Wonder if it's connected to the scam phonecalls I've had claiming my loft insulation is a health risk and had to be replaced.

Hi everyone, do you know any bio, gluten free and dairy free stores that you can recommend? Thanks a lot in advance

Rotary Work Club Borough of Bromley

Date: 25.02.2021. Time: 10:00

Location: zoom

Do you live in the Borough of Bromley? Have you lost your job or fear unemployment due to Covid? The Rotary Work Club offers support and informatio...

We are based in Orpington area (near Orpington Hospital). We're looking for an electrician to fix a number of issues in quite a large property. Would ideally like someone to come out this week.
Any recommendations?

fee for plastic shopping bags in England

The fee for plastic shopping bags in England will be doubled to 10p and extended to all shops from April 2021.
Why not raise it to £1.00? Then buying a life-long carrier bag seems cheaper.

St Christopher's Virtual Cat Show

Date: 18.06.2020. Time: 09:00

Location: online

We're very excited to welcome you to our first ever Virtual Cat Show! Now you may have seen our Dog Show on Facebook over the past week or so. Well...

Amethyst healing and meditation group are meeting on zoom every Wednesday during lockdown. If you would like to join our meditation evening this Wednesday at 7.30pm please email amethystcentre@aim.com for the link.

Priory Gardens: Annual Meeting + Local History Talk

Date: 21.02.2020. Time: 19:30

Location: Priory Gardens, Orpington

The Friends of Orpington Priory & Gardens (FOPG) warmly invite you to our 26th Anniversary meeting in the Orpington Liberal Hall, featuring illustr...

Date: 18.01.2020. Time: 09:30

Location: Fordcroft Road

We are a new Magic Society. Joining us would be a great way to learn and develop your skills, as well as meet like-minded people, and all ages are ...

Meditation Evening (Edited)

We meet every 2nd and 4th Wednesday of each month and our next meeting date will be Wednesday 26th February at 8pm. Doors open 7.30pm. Everyone welcome.

Our next Meditation Evening is this Wednesday 27th November at 8pm. Everyone welcome.

Date: 08.12.2019. Time: 10:30

Location: Priory Gardens

On Sunday 8th December, join hundreds of santas and run, jog, or walk your way round the beautiful Priory Gardens in the third Orpington Santa Dash...

https://www.bbc.co.uk/news/uk-england-london-50258092
Two buses and a Uber taxi involved. One bus driver killed, 15 passengers injured. Uber driver arrested for causing death by dangerous driving.

Does any know of a good eyebrow threader in the area? I have never done it before and I am looking for someone local who won't thread them too thinly (I'm very scared of that). Any recommendations?

Thanks

Live Scam Call from Hammersmith Police

Just had a phone call from a scammer claiming to be a detective constable at Hammersmith police station. He said they had caught 2 men using a credit card attempting to buy £400 worth of goods. The card was registered to me.....
At this point I got suspicious and put the phone down. I did 1471 but it was withheld number. If it had really been the police they would ring again.

Orpingtons latest famous person - Lisa Pitman

She holds the world record for fastest time to smash 1000 roof tiles.

https://www.guinnessworldrecords.com/news/2016/12/british-taekwondo-expert-smashes-923-roof-tiles-and-new-record-guinness-world-r-455725?fb_comment_id=1299585420112591_1303008996436900

Showing at this years BFI London Film Festival.
Directed by former Inbetweeners actor Simon Bird
The film is called, Days of the Bagnold Summer.

The Inbetweeners star Simon Bird's directorial debut is a funny, charming and wince-inducingly accurate adaptation of Joff Winterhart's graphic novel, with a soundtrack by Belle & Sebastian. Days of the Bagnold Summer sweetly draws you into the wobbly relationship between well-intentioned single librarian Sue Bagnold and her black-clad teenage son Daniel, who'd rather listen to Metallica than his mother. Daniel was meant to spend the summer in Florida visiting his dad, but is now stuck with Mum following the trip's cancellation. The film boasts supporting turns by Rob Brydon and Alice Lowe, but belongs to its two leads. Long-suffering Sue is sympathetically portrayed by Monica Dolan (also in our LFF Journey selection Rialto), with Earl Cave's Daniel a suitably lank-haired, pale-skinned picture of adolescent metalhead angst.

Motorcyclist crashes twice in same Orpington road

I copied this from Nextdoor. Original posted by Mark Daniels. Incident happened in Stirling Drive.

Drug Fuelled Idiot !!! . Today not once but TWICE from the house that we are blighted to have in our midst . Came a young lad who crashed his motor bike once , an ambulance was called , he got up rode off and hid in the same street. The idiot then came out and actually crashed it again right in front of the ambulance sent to assist him. Response , 3 Ambulance crew, 4 Police Officers , 4 Fire Crew. 11 exemplary people sent to help a complete f......t

The offender verbally abused all the Police and Ambulance crew kicking off , shouting , screaming , just a total idiot .

My view , launch him back out of the Ambulance back into he gutter he fell into .

Send him a bill for all the cost of money we tax payers fork out to assist such idiots .

The Ambulance crew must have been here for over an hour as was the Police as he was just off his head and so abusive , why do we or they, have to put up with it .

Bill these people , make them suffer the consequences of their actions , hit them hard , if they can afford drugs they can afford to pay for all the time they wasted .

Simple and easy , yet the law simply panders to these people and we have to foot the bill, its utter lunacy .

Knife crime , one solution , get caught with a knife , 5 years , fast track prison .
Use a knife non fatal 15 years fast track prison.
Fatal , life ,as in whole life prison no parole .

Any offender using drugs , weapons , of any sort bill them for their waste of Police , Ambulance time etc ,let us stop pussy footing about and treat fire with fire .

Thats me off my soap box

Recycling Collection Day has changed

From 16th September the collection day for recycling and general waste is changing. My collection day is moving from Thursday to Tuesday.
If you have a garden waste contract that collection will stay the same.
From September you will also be able to recycle batteries, clothes and small electrical items.
Hopefully my old inkjet printer and portable tv qualify as small electrical.

We got an automated call saying £600 had been used on VISA, at the end of this a man started to speak. Suspecting it could be a scam I asked to ring him back, the line went dead.
The automated call sounded very convincing!!

So many different ones to look out for. Todays one for me was a recorded message pretending to be from Visa Secure. It claimed I had just used my card to spend £600 but if I hadn't I needed to press 1 to speak to an advisor.

Anyone else get the same call?

Meditation and Mindfulness Evening (Edited)

Meditation and Mindfullness Evening


Feeling stressed and need some calm and relaxation in your life?


Why not come and join us for an Evening of Meditation and Relaxation. Leave all the stresses and worries of the world behind you for a couple of hours and join our meditation circle with friendly and like-minded people, we meet every 2nd and 4th Wednesday of each month. Everyone is welcome. No previous experience of meditation is necessary.


Our next meeting date is Wednesday 24th July. So if you are free why not come along and join us. We just ask a £5 donation each session to help cover the cost of hiring the Hall for the evening.


Doors open 7.30 p.m. for 8 p.m. start. Finishes around 9.15 pm followed by refreshments for everyone afterwards.


Please do not park on the premises - plenty of parking in side roads just past No. 6


We look forward to seeing you there.


Amethyst Meditation Centre,
c/o Conservative Association H.Q.
6 Sevenoaks Road,
Orpington,
Kent,
BR6 9JJ
Email: amethystcentre@aim.com

Priory Gardens music festival food

Does anyone know if there are gluten free food options at any of the Priory Gardens Music Festival stalls? I went to the doctor the other day and apparently I'm intolerant to anything delicious (that contains gluten)

Something fun to do with friends

Hi everyone! A few of my friends from Falmouth are coming to visit me for a couple of days and I wanted to know if anyone knew of any upcoming events in the area? Or just friendly to have a couple of friend dates? They're two VERY girly girls so I think Rugby's out. Other than that I am open to all and any suggestions.