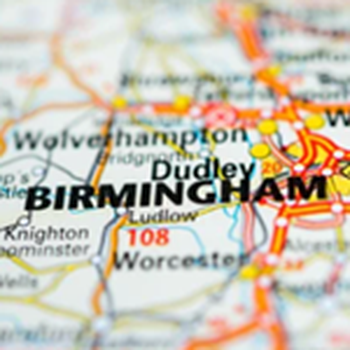 Birmingham
Neighbourhood loop for Birmingham, West Midlands
Open Loop 28
British students are having a hard time. I am a student and constantly under pressure due to lack of time to complete written work, so I found a reliable resource for myself Essay Geek https://www.essaygeeks.co.uk , whose experts help with all academic assignments. This is the best value for money, so I often use the services of this resource. By entrusting EssayGeeks with my write paper, I always make sure that the team selects an expert with relevant experience to write my essay. The author always fulfills my requirements, transferring all my ideas and comments to the paper, and this gives me confidence in perfect English in my paper and meeting all deadlines for my academic papers.

Jerk Festival Saturday 3 October

Date: 03.10.2020. Time: 12:00

Location: Quantum Exhibition Centre

https://www.eventbrite.co.uk/e/jerk-festival-saturday-3-october-tickets-98026986355?aff=ebdssbcitybrowse

Pulp Fiction in The Kingsway Open Air Cinema

Date: 22.08.2020. Time: 22:00

Location: The Kingsway Open Air Cinema

Friendly Neighbourhood Cinema presents PULP FICTION (1994).Admittance will begin half an hour before billed start time. Please arrive on time to h...

Home Birth workshop 1h30 session

Date: 14.08.2020. Time: 19:00

Location: Zoom

During the current climate, it is more important than ever to consider your place of birth options. Having your baby at home is one of those option...

Face coverings are compulsory from today, 24 July!

Coverings will be mandatory in enclosed public spaces including supermarkets, indoor shopping centres, transport hubs, banks and post offices.

They must also be worn when buying takeaway food and drink, although they can be removed in a seating area.

Those who break the rules could face a fine of up to £100.

And police will be able to "use force" to remove customers from shops if they do not wear face coverings, as well as prevent them from entering, guidance from the College of Policing says.

However, forces have said they will only be enforcing the rules, including issuing the £100 fines, as a last resort - and officers will not be patrolling premises.

There are exemptions to the new rules for children under 11, those with disabilities or certain health conditions, such as respiratory or cognitive impairments that make it difficult for them to wear a face covering.

Public Health England has warned parents not to buy coverings for babies and young children because of the risk of choking or suffocation.

It is not compulsory for shop workers to wear face coverings but the government said it "strongly" recommended that employers consider their use where appropriate.

The government said it was the responsibility of individuals to wear one, although businesses are encouraged to take steps to encourage customers to follow the law, such as with signs.

Sainsbury's and Costa Coffee have already said their staff will not challenge or enforce customers who enter their stores. Asda said enforcement was the "responsibility of the relevant authorities".

But Waitrose said it will have staff at the entrance reminding customers of the rule, while Greggs and McDonalds said takeaway customers need to wear masks.

Masks will not be mandatory in indoor venues which have other safety measures in place, including:
- Eat-in restaurants
- Pubs
- Hairdressers and salons
- Gyms and leisure centres
- Cinemas, concert halls and theatres
- Visitor attractions like museums

The government said evidence suggests that when used correctly, face coverings may reduce the chance of infecting others.

The government has been accused of mixed messaging over wearing masks in takeaways, with trade bodies and MPs saying there had been confusion about how the rules would apply.

A Department of Health spokesman said: "If you are in a premises where you are able to sit down and consume food or drink that you have bought, then you can remove your face covering in order to eat and drink on site."

The criticism came after ministers and Boris Johnson's official spokesman contradicted each other over how the rules would apply to takeaways and sandwich shops.

Speaking before the guidance was published, Kate Nicholls, chief executive of UK Hospitality, said the messaging from the government had been contradictory and it was "very late in the day" for the guidance to be confirmed.
Unison official Jon Richards also said the UK "was late to the table on face coverings and now people don't know what they should do".

He said the rules on face coverings were in place for shops and public transport but not for some other enclosed spaces such as libraries, register offices and civic centres. "The public needs clarity to end the muddle," he said.

According to the government, face coverings should cover the mouth and nose and can be as simple as a scarf or bandana that securely fits around the side of the face without having to be held in place.

The requirement to wear face coverings at transport hubs - railway and bus stations, airports and maritime ports - only applies for those areas which are fully indoors and enclosed.

You are allowed to remove a face covering in certain situations, for example to prove identification in banks or when buying age restricted products.

Date: 04.07.2020. Time: 10:00

Location: Online with Newman University Birmingham

At Newman University, our Open Days give you the opportunity to meet staff and students and find out about the full range of courses we offer, incl...

Birmingham Botanical Gardens Sightseeing

Date: 22.06.2020. Time: 10:00

Location: Birmingham Botanical Gardens

Due to social distancing guidelines, please be aware that each 15 minute time slot allows 15 minutes to enter the gardens and your ticket is then v...

Could anyone please recommend a retailer/manufacturer of really good quality velvet sofa?

Many thanks in advance!

Date: 16.05.2020. Time: 14:00

Location: online

The Spirit Cafe is a place people come when they need direction, healing prayer, peace or all the above. The treatment teams have been trained and ...

Birmingham City Council is reopening four of the five tips across the city this week - with residents warned of potential huge queues.Following a council review, tips in Kings Norton, Perry Barr, Sutton Coldfield and Tyseley will be taking waste from 11am - 8pm on weekdays, with shorter hours over the weekend.

Date: 26.04.2020. Time: 16:00

Location: online

Yoga Nidra means The Yoga of Sleep. Accompanied with a Sound Bath of healing resonance.Yoga Nidra includes no movement, stretching or strengthening...

Communities Art of Life Easter online Event

Date: 11.04.2020. Time: 12:00

Location: online

Local businesses will showcase their products and services so you can discover Birmingham's hidden gems with arts, crafts, therapies, readings and ...

Date: 02.04.2020. Time: 20:00

Location: Your own home

Live Streamed Home Quizzes (various dates) Want to take your mind off Covid-19 for a couple of hours? Join us and possibly win some cash along the ...

Date: 13.03.2020. Time: 17:00

Location: Birmingham, United Kingdom

Female Boss Fridays presents International Women's Day.It is 2020, and we don't know about you but the vibe is all about empowering ourselves. SO t...

Date: 05.03.2020. Time: 08:00

Location: National Exhibition Centre

Crufts, the world's greatest celebration of dogs, will return to the NEC in Birmingham from 5th - 8th March 2020. The four-day event, which attra...

World Book Day Launch and Celebration

Date: 05.03.2020. Time: 16:00

Location: 313 Hagley Road, Birmingham

On Thursday 5th March 2020 come along to the exciting launch of our brand new book in the My Friend Jen series entitled: 'The Check Up'. This will...

PlanNet Marketing UK Birmingham Super Saturday

Date: 07.03.2020. Time: 09:00

Location: Crowne Plaza Birmingham City Centre

Discover how you can turn your passion for travel into an extra income, be your own boss and work from home within the travel industry. https://ww...

Date: 07.03.2020. Time: 22:00

Location: O2 Academy Birmingham

After the overwhelming demand in London and Manchester, Magic Lantern Rave is coming to Birmingham. Join us for the most colourful rave anywhere i...

Great British Beer Festival Winter 2020

Date: 04.02.2020. Time: 13:00

Location: The New Bingley Hall

Following three great years in Norwich, the Great British Beer Festival Winter is moving to Birmingham as part of its three-year rotation around th...

Date: 12.12.2019. Time: 17:30

Location: IKON Gallery

Join Ikon for their annual Winter Craft Market, expanded over both floors of the gallery. Take the opportunity to meet a range of local independent...

Date: 30.11.2019. Time: 12:00

Location: 119 Digbeth

We are extremely happy to announce that Sausage & Cider Fest is coming to Birmingham for the VERY FIRST TIME!! Enjoy incredible live music while e...

Tesco Food Collection starts today

Here you go this year's list of much-needed items.

https://www.mirror.co.uk/news/uk-news/food-bank-donate-tesco-charity-20920694?_ga=2.187024616.1982539014.1574345878-43022136.1569505646

Some ideas for free attractions in Birmingham: https://visitbirmingham.com/things-to-see-and-do/attractions/free

Hello! My hoover (Miele) has stopped working. Is not old so I'd rather try to fix it than to buy a new one. Any ideas as to where I might be able to get it fixed?

Any recommendations would be great!

Date: 12.11.2019. Time: 14:00

Location: The Birmingham Conference & Events Centre

DCDC19 will explore the possibilities of the digital shift for collections, audience expectations, and professional practices. It seeks to go beyon...

Hello all neighbors! I was just wondering if anyone can recommend an excellent baby/toddler osteopath? One of my best friend urgently needs it.

Date: 19.10.2019. Time: 11:00

Location: Victoria Square, Birmingham

Come along and help us bring the light to Birmingham this Diwali! Following the success of last year's event, it's back again! West Midlands Combi...

Big Villa Sleep Out (Edited)

Date: 11.10.2019. Time: 19:30

Location: Birmingham

Let's make a difference! The Big Villa Sleep out returns on 11 October as we encourage Villa fans, local people and anyone who wants to make a dif...

Is anyone from Birmingham areas here? Quite empty innit.. for anyone that's here, how did you find this Scooploop website?

Hey, I am looking for a bakery (or private person) who can bake a cake for my friend's 20th wedding anniversary. Any recommendations? Thanks!

Date: 12.10.2019. Time: 18:00

Location: Birmingham

The Birmingham Music Festival is one of Britain's leading piano competitions. We welcome entrants of all ages and all abilities from enthusiastic b...

Birmingham Fashion Extravaganza

Date: 29.09.2019. Time: 16:30

Location: Birmingham

Birmingham Fashion Extravaganza is a spectacular fashion show experience like no other. The glamorous event takes place at The MacDonald Burlington...

Talking Practice: Making Form book launch

Date: 17.10.2019. Time: 17:00

Location: Birmingham

Please join us at the launch of the innovative new ebook Making Form: Contemporary British Fine Metalwork. During the event you will have the chanc...

Date: 06.10.2019. Time: 12:00

Location: Longbridge

Amusements on the day will include displays of Punch & Judy puppets through the ages, ventriloquist figures of stage & screen, rare archive film cl...

Springfield Community Street Party

Date: 29.06.2019. Time: 13:00

Location: St. Christopher's Church/The Springfield

A street party will to bring together local residents for conversation, friendship, creative activities and fun. St Christopher's Church car park w...

Makers Mark - For Valentine's Day (18 Jan 2019 - 10 Mar 2019)

Date: 10.03.2019. Time: 11:00

Location: Sara Preisler Gallery, Gibb Street, Birmingham, West Midlands, B9 4AA

Treat the one you love this Valentine's Day by gifting a beautiful piece of bespoke jewellery! This year Sara Preisler Gallery are delighted to pre...

Phabgirls VJ &Miller Virtual 5k (Edited)

Date: 28.02.2019. Time: 12:00

Location: Milton Keynes University Hospital Standing Way, Eaglestone Milton Keynes MK6 5LD

We are very excited to announce our February Virtual Run Challenge! Either Run, Walk, Cycle or Scoot 5k either all in one go, or across the month o...