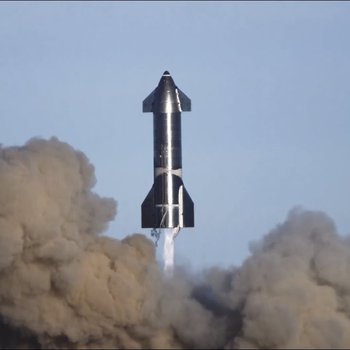 All About Space
Discussing news and questions around space flight, space science and astronomy. Beware, flat-earthers might get banned.
Open Loop 81
New attempt for a Boeing Starliner Capsule (un-crewed testflught) is scheduled for tonight Thu May 19, 2022 23:54 BST. This is the second test flight
of this Crew Capsule (the first flight failed in 2019)

https://www.theverge.com/2022/5/19/23075086/boeing-cst-100-starliner-nasa-commercial-crew-oft-2-iss

The NASA/ESA Hubble Space Telescope has established an extraordinary new benchmark: detecting the light of a star that existed within the first billion years after the Universe's birth in the Big Bang (at a redshift of 6.2) — the most distant individual star ever seen.

https://esahubble.org/news/heic2203/

Smaller than a penny, the flower-like rock artifact on the left was imaged by NASA's Curiosity Mars rover using its Mars Hand Lens Imager (MAHLI) camera on the end of its robotic arm. The image was taken on Feb. 24, 2022, the 3,396th Martian day, or sol, of the mission. The "flower," along with the spherical rock artifacts seen to the right, were made in the ancient past when minerals carried by water cemented the rock. Figure A shows a tighter view of the flower-like feature.

https://mars.nasa.gov/resources/26587/curiosity-finds-a-martian-flower/

Rogozin still bitter: "In response to the sanctions, Roscosmos will no longer supply rocket engines to the United States. "Let them fly on their brooms,"

In reality, only one US rocket is still requiring engines manufactured in Russia, the Antares.

https://twitter.com/katlinegrey/status/1499329521304154112

Martin said that the operational costs alone for a single Artemis launch—for just the rocket, Orion spacecraft, and ground systems—will total $4.1 billion. This is, he said, "a price tag that strikes us as unsustainable."

https://arstechnica.com/science/2022/03/nasa-inspector-general-says-sls-costs-are-unsustainable/

Nicolaus Copernicus born this day in 1473 turned the understanding of the solar system on it's head.
https://earthsky.org/human-world/happy-birthday-nicolaus-copernicus-feb-19-1473/?utm_source=EarthSky+News_campaign=49a6b3d793-EMAIL_CAMPAIGN_2018_02_02_COPY_01_medium=email_term=0_c643945d79-49a6b3d793-393641877_cid=49a6b3d793_eid=6b30a4d318

40 Starlink satellites doomed

SpaceX reported last night (February 8, 2022) in its Updates area that 40 of the 49 Starlink satellites it launched to low Earth orbit on February 3 are now doomed by a geomagnetic storm. Such storms are disturbances in Earth's magnetic field caused by activity on the sun. The satellites were part of SpaceX's grand plan to launch thousands of Starlink satellites for global internet access. SpaceX said:
The satellites deployed on Thursday were significantly impacted by a geomagnetic storm on Friday … Preliminary analyses show the increased drag at the low altitudes prevented the satellites from leaving safe-mode to begin orbit raising manoeuvres up to 40 of the satellites will reenter or already have reentered the Earth's atmosphere.
Geomagnetic storms result from explosive events on the sun, called solar flares. These events have the potential to hurtle charged solar particles across space to the Earth. The impact causes a geomagnetic storm, an event associated with Earth's beautiful auroras or northern lights. But these events also cause Earth's atmosphere to warm and "puff up." Low-orbiting satellites will feel increased atmospheric drag in an atmosphere puffed up during a geomagnetic storm. SpaceX said:
In fact, onboard GPS suggests the escalation speed and severity of the storm caused atmospheric drag to increase up to 50% higher than during previous launches.
The Starlink team commanded the satellites into a safe-mode where they would fly edge-on (like a sheet of paper) to minimize drag, to effectively 'take cover from the storm' …

But alas, to no avail.

Astronomers have discovered a mysterious spinning object in the Milky Way that emits a radio wave beam every 18 minutes - and is unlike anything seen before.
The object has been observed to release a huge burst of radio energy for a whole minute every 18 minutes.
Researchers estimate that it is around 4,000 light years away and could be a new class of slowly rotating neutron star with an ultra-powerful magnetic field that can be detected by radio telescopes.
The observation is known as a radio transient, which refers to an object that periodically releases brief flashes of radio signals, as if it is switching on and off in space.