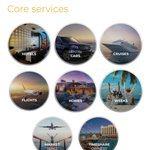 Rotherhithe
- joined over 2 years ago
0

Friends

5

Posts

1

Comment

1

Reaction

16

Points
I'm a family man and run an online travel business.
I give away a free travel platform of which clients use it to compare prices and book travel, nationally & internationally, for luxury hotels, beach resorts, cruises, car rentals, flights and leisure activities, all with super savings on price.
When I'm not working I can be found out taking a stroll, taking time out with my kids, going to the movies with my Mrs, the odd stint at the gym, when I have the energy, or out for family meals and of course, travel.
Scooploop Cookies - To give you the best possible experience Scooploop uses cookies. Find out more
Allow Cookies