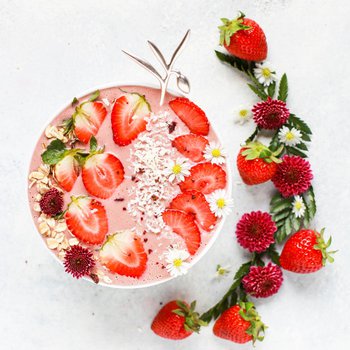 Vegan-Powered
Welcome to the Vegan-Powered group, a place to share your home cooked vegetarian and vegan recipes, favourite markets and restaurants, or just photos of your veggie food porn and general tips. This group is not about strictly being vegetarian or vegans but about being inspired to have a healthier lifestyle.
Open Loop 93
Participants needed for research! HELP!

Hello beautiful people,

Would you like to participate in my #PhD research regarding #sustainability?
To participate you have to be:
• In the #UK
•Between 25-40 years

Please follow the link to the questionnaire!

https://bedsbmri.qualtrics.com/jfe/form/SV_71buL61xpFWZhXw?Q_CHL=social_SocialSource=facebook

Finally ... a Ban on Factory Farm Cages

Following mounting pressure from 170 organisations and concerned citizens in an 'End the Cage' initiative the EU will phase out the use of cages in animal agriculture by 2027, affecting 300 million animals!



https://vegnews.com/2021/7/eu-ban-factory-farm-cages

A Vegan Market at Stoke Newington (Hackney) with a well-selected variety of 28 stalls including delicious food, drinks, music, crafts, clothing, skincare, candles, plants, scents, illustrations and more.

We are following all safety guidelines.

The next markets dates are:


10th & 11th July

7th & 8th August

Times: 11am - 5pm

Address: Abney Public Hall - 73a Church Street - N16 0AS

Free Entry

Family, kids & pets friendly - Check out our pet station with water and homemade snacks.

Which Level of Veganism Do You Fall Into?

There are different categories and types of veganism, based on the lifestyle followed. While some people try to follow veganism in the purest form, some find it difficult to maintain the same. Knowing about these categories might help you to choose the best vegan diet for yourself.

Level 1 Vegan
The level 1 vegans are people who switch to veganism typically for health benefits. Usually, this level of veganism doesn't focus on the ethical and environmental benefits of veganism.

Though the level 1 vegans avoid animal-derived food, they might cheat on rare occasions. Besides enjoying green smoothies they might consume organic honey as well. Hence, we can assume they follow vegan diet for about 95% of the time. These people are the believers of a great balanced diet but are not very strict with their vegan ethics so they might use non-vegan products.

Level 2 Vegan
Since they are beyond level 1, they primarily choose a vegan diet to stay fit and active and additionally, are more emotional in nature when it comes to animal cruelty.

They will initiate an urge to protest against animal agriculture. Yet, they just might flaunt their brand new non-vegan accessories. I

Level 3 Vegan
Small changes do make a difference and this is what the level 3 vegans will tell you to motivate you. They are much more aware of animal cruelty and therefore, stand against it firmly. Level 3 vegans are usually conscious when it comes to choosing plant-based foods for diet like capers.

Level 4 Vegan
The level 4 vegans are just one level below level 5. Hence, they are aware, confident as well as quite active to opine about animal rights. This level refers to the vegans who are also practical when it comes to making a choice for living.

They follow a healthy vegan regime, which includes more fruits, vegetables like Eggplant, and nuts like walnuts over packaged foods.

Level 5 Vegan

A level 5 vegan is someone who never eats anything that casts a shadow. Now, that sounds very funny and almost impossible. Well, the term was actually used as a humorous barb in the episode of The Simpsons. More precisely, it was first coined in the 'Lisa the Tree Hugger' episode of The Simpsons to describe the character, Lisa Simpson.

A level 5 vegan is the most extreme and difficult level of veganism. It refers to all those vegans who go to the extreme extent to follow a lifestyle that eliminates all exploitation of animals from their lifestyle. It is not about the food but also the products one uses on an everyday basis, starting from the toothbrush to the shoes (they tend to even use vegan combat boots rather than using the leather one).

Which level are you at?

Delicious Sweet Potato Soup Recipe ...

Ingredients
1 medium onion
2 tbsp olive oil
1 bell pepper, red (yellow or red go well but any will do)
2 cloves garlic (2 cloves = 1 tsp dried garlic)
0.7 inches ginger, fresh (0.7 inches = 2 cm = 1 tsp dried ginger)
1 tsp cinnamon
½ tsp cayenne pepper
3 cups vegetable broth
2 large sweet potato (approx 300 g/ 10 oz each; a total of 2.5 cups chopped)
½ cup tomato puree
2 tbsp peanut butter
2 tbsp maple syrup
2 tbsp soy sauce (low sodium if necessary)
2 tbsp vinegar (lemon juice can also be used)
salt and pepper to taste
½ lime (juiced)
peanuts (to garnish)
¼ cup cilantro/coriander, fresh (Or other fresh herbs: go a bit wild with them – make it your signature dish by throwing in any and all of the following herbs that you have: basil, parsley, coriander, oregano)


Instructions
Dice the onions, bell pepper, garlic, ginger and sweet potatoes.
Throw the onions into the oil in a pot on low to medium heat. Let the onions cook slowly for about five minutes – they should begin to turn clear.
Add the bell pepper, garlic and ginger to the pot. If you're using dried herbs, add them now. Add the cinnamon and cayenne pepper too. Cook for another two minutes and then add the peanut butter, soy sauce, vinegar and tomato.
Add a splash of broth and stir well.
Chuck in the sweet potatoes and rest of the broth, and simmer on a medium heat. If you're using fresh herbs, add them now. Stir occasionally and after 10-15 minutes check the sweet potatoes are soft (poke one with a knife and it should slide in).
Season with salt and pepper, maple syrup and lime juice and give another stir. If you used a cinnamon stick then fish it out now.
Using a hand liquidiser or (blender if you don't have one), give the soup a blend. That's it – done!
Garnish with peanuts and serve with a side if wanted – fresh bread is an obvious choice!

Since the hit Netflix documentary dropped many people have been discussing the impact that eating seafood has, not only on our wildlife but also on our planet and climate change in general.
Interesting article on it here:

https://vegnews.com/2021/5/seaspiracy-takeaways-never-eat-fish-again

Tomato, Lemongrass & Rice Soup

Ingredients
vegetable oil 1 tbsp
garlic 1 clove, crushed
ginger 2cm piece, finely grated
red chilli 1, finely chopped
lemongrass 2 stalks, woody outer leaves discarded, finely chopped
cumin seeds ¼ tsp
ground coriander ¼ tsp
chopped tomatoes 400g tin
tamarind purée 2 tbsp
basmati rice 3 tbsp
coriander a handful, finely chopped
Method
STEP 1

Heat the vegetable oil in a pan and cook the garlic, ginger, chilli and lemongrass for 2 minutes.

STEP 2

Add the spices and cook for 1 minute, then tip in the tomatoes, tamarind and 600ml water, and simmer for 5 minutes. Blitz with a stick blender until smooth, then season.

STEP 3

Heat the soup again, add the rice and simmer for 10-12 minutes or until the rice is cooked. Stir through the coriander and serve!

Creamy Mushroom Soup (Edited)

Cream of Mushroom Soup





Ingredients


• 1 ½ cups of white mushrooms, diced


• 2 cups of cauliflower florets


• ½ yellow onion, diced


• 1 2/3 cup of almond milk, unsweetened


• ½ tsp of extra virgin olive oil


• 1 tsp of onion powder


• ¼ tsp of rock salt


• Ground pepper


Instructions


• In a small saucepan, add milk, cauliflower, onion powder along with salt and pepper.


• Cover and cook over medium heat until it begins to boil.


• Now turn the heat to low and let it simmer for around 8 minutes.


• Add the contents to a food processor and make a puree.


• Now in another medium-sized saucepan, add mushrooms, oil, and onion. Heat it for about 8 minutes.


• Now, add pureed cauliflower mixture to this medium saucepan. Boil it for about 10 minutes.


• Serve.





https://keto-plans.com/2019/08/25/healthy-diet-to-lose-weight/

Artichoke-hummus wraps with spinach tortillas (Edited)

serves 4





Hummus wraps are an ideal fast-food lunch idea, made even faster when you have some rich, creamy hummus on hand. Make your own or choose from the wide variety of hummus flavors available in supermarkets. If spinach tortillas are unavailable, regular flour tortillas may be used.





1 cup hummus, store-bought or homemade





4 large spinach flour tortillas





1 (12-ounce) jar marinated artichoke hearts,





drained and chopped





2 cups chopped romaine lettuce





1 carrot, grated





Salt and freshly ground black pepper





Spread about ¼ cup of the hummus on each of the tortillas. Top with the chopped artichokes, followed by the lettuce and carrot. Season to taste with salt and pepper. Tightly roll up the tortillas. To serve, cut in half and arrange on plates.




https://vegetarian-lifestyle.com/2020/08/09/artichoke-hummus-wraps-with-spinach-tortillas/

The UK's first all-vegan food hub has just opened at London's Kings Cross

Hi all

Outside Kings Cross Station, 4 plant based vendors in one building. Initial lease only for 3 months, but will extend if they get enough customers, so if you live in London, are travelling through or visiting London please pop in if you can, let's use our Vegan Pound to support these independents not just the vegan options at the big chains.



https://www.veganfoodandliving.com/news/uks-first-all-vegan-food-hub-has-just-opened-at-londons-kings-cross/?fbclid=IwAR14cx6jsq_tyQb_psP9HRuHvLRjUy8WVZdDYne7ZfFNVmMOxvqml_G8zP8

For all.your vege/vegan mocking friends tell them to watch game changers on Netflix. 🥦

Hi Everyone,

When I speak to people from all works of life (non organic but meat lovers) they get a shock when I tell them I only spend around £30 on organic fresh food and last me on my own for 3 weeks. 'How do I do it? I tell them you have to have the guts to be prepared to shop around, and ask as many questions as possible, When I ever I take on a client as a one off I would go to the shops with them and show them how they can actually save or suggest where they can go.

Guess what majority of them just cannot be bothered. Then it makes me wonder why their heal is at low, or go to high street shops, and pack the trolley to the brim with chemical food..excuse it cheaper they say!!..may be so but what does it cost them to continue to consume high volume of white sugar in the products they buy, compare to been able to have healthy food at lower price, that will give them and family budget and healthier?

Do you have a buying plan to buy organic food and still save? or would your excuse be also 'I cannot afford it ' so you buy cheap products on high brands shops . Would love to hear your views

My friend took me today to a vegan shop near Streatham. My goodness the food and dessert were so good I struggled to get up (It was so good even forgot the name of the shop) Vegan shops are popping up all over London. That tells me people are waking up to eating healthy

What are your favorite vegan shop and dish?

Hi.

I am a massive fan for years eating healthy and plant based food. I look forward networking and learning from everyone

Sky News: https://news.sky.com/story/anti-vegan-protesters-who-ate-raw-squirrels-outside-food-stall-fined-11769041

Well they used to be non existent so we always cooked, occasionally had a veggie paella but that was it. Now there are a few vegan restwe went to a very nice one inland in Benetichell, another ok in Javea and one ( bit pricey) in Denia, amazing.

As it was my birthday and we were going to the Coliseum Theatre, we bought a £30 voucher for a cocktail and 3 course evening meal. The champagne cocktail would have cost£14!! and the meal was lovely. It was called the Library and opposite Coliseum. Excellent service and great for a special occasion.

Brixton Vegan Market ~ Summer!

Date: 02.06.2019. Time: 11:00

Location: Outside the Craft Beer Co, 11-13 Brixton Station Rd, SW9 8PA

Join me at Brixton Vegan Market this Spring & beyond! You'll find me at the Art Workshop or singing stall ; there is always a variety of internati...

Worldwide Vegan Chalking Night: London

Date: 31.05.2019. Time: 20:00

Location: Burger King, Leicester Square

💚 Welcome to the Worldwide Vegan Chalking Night 💚 🐷 What is it? 12 hours of chalktivism for the non-human animals 🐮 When? Night, 31 May 2019 (from...

Hello to all the vegan gurus in this group, I went vegan for the last 10 weeks and it was incredibly hard for an active and working mum. I eat all the time and still don't know why I am always HANGRY!
Can you please share your hacks to maintain your protein intake?

Hello everyone, the sun is out and I would love to have some BBQ in my garden soon so can you please suggest your fav frozen vegan burger brand that I can find it in the super market? Happy Monday :)

Hi everyone, I've just join this group and this is my first post ever. My partner and I are gonna start the vegetarian journey and we are very excited about this. The only problem is we dont know a lots of vegetarian cooking recipes, would anyone know any vegan/vegetarian cooking school in East London: Hackney, Dalton, Leyton areas? Many thanks!

Date: 03.05.2019. Time: 17:30

Location: Nomadic Community Garden Fleet Street Hill London E1 5ES

Please do join us on Friday 3rd May at the very special Nomadic Community Gardens, just off Brick Lane for the very first edition of Nomadic Nights...

Portobello Vegan Farmers Market

Date: 12.05.2019. Time: 11:30

Location: Portobello Green 281 Portobello Road London W10 5TZ

We welcome you all every Sunday from the 7th April to the 2nd June from 11.30am - 3.30pm. Gone are the days of having to walk past a hog roast as ...

http://click.icptrack.com/icp/relay.php?r=6218388&msgid=21476&act=F2YD&c=1768063&destination=https%3

Hey Lisa,
Right now Big Pharma is responsible for…
More than 500,000 Americans paying upwards of $50,000+ per year on prescription medications.
With the disgusting intent to do one thing…
Keep you alive and paying for more drugs.
I know this harsh reality might be coming off as a bit aggressive but I want you to realize something very important...
Big pharma and other pharmaceutical companies do not make any money if you're not taking their drugs… and this includes if you pass away.
Horrible, right?
The sad truth is that no one wants to talk about this. That is, no one until now.
Our friend, Trevor King, who brought you our recent article - 7 Ways To Prevent Depression - has created a 9-part documentary series that travels across the globe interviewing experts and survivors alike delving deeply into how our bodies age, and how you can keep the effects of aging at bay for as long as possible.
It's called Live Longer, Feel Better – Defeating Dementia, Diabetes and Depression, and from what I gathered it's a "MUST see".
It's absolutely FREE to watch and covers topics from our toxic environment, to some spectacular advancements in modern medicine that hold keys to living not just longer lives, but healthier and brighter lives too.
There are 9 action-packed episodes filled to the brim with amazing information specifically designed.
Click Here To Claim Your Complimentary Seat
I genuinely hope you'll take advantage of the FREE documentary series as this information NEEDS to get into more hands.
Trust us, you'll agree after seeing just the trailer video that Big Pharma needs to be stopped.
Thank you again for your ongoing support.
You're the best,
Theresa Graham
Lead Relationship Manager

Date: 27.06.2019. Time: 13:00

Location: French Alps

How about a fully vegan summer retreat in the French Alps? Amanda and her husband have put together a truly sensational 4-day retreat at their cha...

I've discovered this amazing vegan brownie last week via Fat Gay Vegan page. The taste was beyond words, guys.

Order: http://fatgayvegan.com/2019/04/09/wholesale-vegan-brownie/

Vegan Nights (Edited)

Date: 04.04.2019. Time: 17:00

Location: 93 Feet East, 150 Brick Lane London, E1 6QL

Gobble down a feast of food, all of the plant-based, meat-free variety at this Vegan Nights bash. The event is also the official launch party for '...

Vegan Polenta with Mushrooms and Spinach

This Creamy Vegan Polenta with Mushrooms, Spinach and Pine nuts makes an easy gluten-free lunch or dinner that is plant-based, healthy and ready in only 15 minutes. It's also perfect as side dish and you can serve it with any vegetables you like.

*** Ingredients ***
Polenta (Basic Recipe):
1 cup polenta (150 g) (see recipe notes*)
3/4 cup full-fat coconut milk* (200 ml)
1 1/4 cup vegetable broth (300 ml)
2-3 tbsp nutritional yeast flakes or vegan parmesan cheese (optional)
Mushroom Spinach Topping:
1 tbsp olive oil or coconut oil
1 onion sliced
7 oz mushrooms (200 g) sliced
2 cloves garlic minced
1-2 tbsp soy sauce
2 cups spinach roughly chopped
salt, black pepper to taste
2-3 tbsp pine nuts (options see text above)
Powered by Chicory

*** Instructions ***
Polenta:
. Bring coconut milk and vegetable broth to a boil in a pot. Stir in polenta by using a whisk.
. Reduce heat to a low simmer and continue to whisk for 1-2 minutes to avoid lumps.
. Then cover and let simmer for about 10 minutes (or according packaging instructions*), stirring occasionally. (If the polenta thickens too much you can add additional milk and/or water and stir to thin.)
. Once the Polenta is creamy and smooth, remove from the stovetop. Add nutritional yeast or vegan parmesan and stir (optional).
. Mushroom Spinach Topping:
. Heat oil in a skillet or pan. Add mushrooms along with onions and fry for about 3 minutes on high heat or until beginning to get golden-brown.
. Add minced garlic and roast for 30 seconds longer. Then add soy sauce and spinach and cook for 1-2 minutes or until spinach is wilted. Season with salt and pepper to taste. Add a splash of fresh lime juice, if you like.
. Toast pine nuts in a small pan without oil until lightly browned.
Serve polenta with mushrooms, spinach and pine nuts.
Enjoy! 😊

*** Notes ***
To make it even simpler and creamier, I prefer using finely ground polenta, that takes only 2 minutes to cook. If using regular yellow corn grits please read the cooking time stated on the package. Otherwise you could also use cornmeal.
Instead of coconut milk you can add any plant-based milk. Add 1 tbsp vegan butter, if using low-fat milk.

Fresh Vegan Spring Rolls with Tangy Peanut Sauce (Edited)

Love to share my fav spring rolls recipe:

*** Vegan Spring rolls:
1 full recipe of Sriracha Soy Baked Tofu
1/2 package of Maifun Rice Sticks, cooked (or other thin rice noodles)
1 red pepper, julienned
1 carrot, julienned
1/2 cucumber, julienned
6 green onions, thinly sliced on a diagonal angle
3 handfuls of baby spinach, gently bunched up and sliced thinly
1/2 cup fresh mint, sliced thinly

*** Rice papers tangy peanut sauce:

1/4 cup salted peanut or almond butter
1 tablespoon soy sauce
1 tablespoon brown sugar or maple syrup
1 lime, juiced
1/2 teaspoon Sriracha
1/4 teaspoon sea salt
hot water to thin


*** Instructions
- Make Sriracha Soy Baked Tofu.
While tofu is baking, make rice noodles according to package instructions. When finished, drain and rinse with cold water. Chop roughly.

- Chop vegetables and collect in a prepping area.

- Prepare tangy peanut sauce by adding all ingredients except water to a mixing bowl and whisking. If sauce is too thick, add hot water 1 tablespoon at a time. Whisk until desired consistency is desired. Set aside. I like sauce variety, so I make peanut sauce and use additional Sriracha, Sweet Chili Sauce, or Soy Sauce for dipping. If you just want tangy peanut sauce, I'd recommend doubling this sauce.

- To assemble fresh spring rolls, first fill pie pan or round skillet with warm water. Submerge rice papers individually for 10-20 seconds per paper. You will feel the papers soften and start to have a slightly gummy texture. Once 10-20 seconds has passed, remove from water and put on large cutting board or plate for assembly.

- Add vegetable fillings, tofu, and rice noodles, laying horizontally, in the middle of rice paper. Pick up bottom edge of rice paper (edge closest to you) and wrap over fillings (this motion will be away from you). Once wrapped from the bottom, tuck in the sides, and continue gently rolling to seal the seam. If rice papers are too stiff at this stage, dampen your fingers to help soften and seal.

- Repeat process until all toppings are used. We made about a dozen spring rolls.
Store leftovers covered in fridge. Good up to 3 days but best when fresh.

Vegan Events in London (Edited)

Hello everyone, I would love to share to you the vegan event list -included all the yummy vegan markets, fair and activism events across London.
I will be at the Canada Goose Protest, Cavendish Square tomorrow. Give me a shout if you are around!

https://www.veganlondon.co.uk/events-listing.html

Soho Vegan Market (Edited)

Date: 23.02.2019. Time: 11:00

Location: Rupert Street Market, Soho W1D 7PF

Chomp down on tasty animal-free treats at the Soho Vegan Market, which hosts a curated selection of London's top vegan vendors, including Young Veg...

http://news.sky.com/story/moo-ve-over-cadburys-east-yorkshire-chocolatier-creates-vegan-cream-egg-11642871

http://news.sky.com/story/natwest-call-handler-told-customer-vegans-should-be-punched-in-the-face-11641268

Just a heads up that I ordered a garden party pizza (& asked for vegan cheese) from Papa John's last night, with the option of stuffed crust. When it arrived I took a bite out of the crust which tasted suspiciously like normal cheese. I rang them up to clarify whether I was imagining it, and they do use normal cheese or the stuffed crust! There's no mention of this on their website that I can see and no one asked whether we wanted it made with normal or vegan cheese. So if you're thinking of ordering a pizza, don't get the cheese stuffed crust!!

Free cooking class Monday night: Food waste cooking club socials

Date: 14.01.2019. Time: 18:30

Location: Somers Town Community Association, 150 Ossulston Street, London, NW1 1EE

Monday night's low-fat vegan food waste prevention cooking club socials: - free to attend - learn how to cook hands-on - improve your cooking sk...

Vegan Nights 31st January 2019

Date: 31.01.2019. Time: 17:00

Location: The Old Truman Brewery, 93 Feet East 150 Brick Lane London E1 6QL

London's monthly Vegan Nights festival is back on January the 31st 2019! Celebrate Veganism beyond Veganuary! Branded a must do by Time Out, who ...

Are there any chain cafe/restaurants running veganuary offers? Would be really good to know as I am trying to go vegan this month, for the first time!

Does anyone know where I can buy Jackfruit? I have a new vegan recipe I'd like to try out and I've never seen it before.

What's everyone having for Christmas dinner this year? We're thinking of doing a nut roast for our first year as a vegan family, but I thought it'd be great for us to share our ideas for inspiration. I will miss the pigs in blankets, that's for sure 😩

DECADENT CARROT, APPLE AND CASHEW VEGAN CREAM SOUP

Soups tend to be more popular over the colder months, but this delicious refreshing combination is great to make any time of the year.

You'll be surprised to see how tasty it is even if only a few ingredients are involved. It just goes to show you how even the very simplest of combinations can make for a wonderful and satisfying soup.

INGREDIENTS

1 lb carrots
1 large onion
1 small potato
1 large cooking apple
2 oz vegan margarine
2 pints (1.2 litres) vegetable stock
2 oz broken cashew nuts
salt and pepper to taste

Roughly chop the vegetables and apple. Melt the margarine in a large saucepan and sauté the prepared vegetables for 5 minutes, stirring occasionally. Add the remaining ingredients, bring to the boil, cover and simmer for 30 minutes until the vegetables are just tender. Allow to cool before blending in a liquidizer or food processor. Reheat to serving temperature and adjust seasonings.