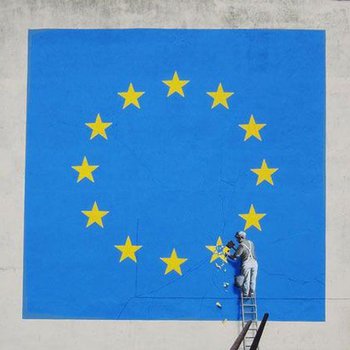 South London Friends Of Europe #FBPE
Pro Europe South London Citizens, but you do not have to live in South London to join.
Open Loop 87
"Red tape caused a "steep decline" in the number of trading relationships after January 2021, according to a study by the Centre for Economic Performance at the London School of Economics. The number of buyer-seller relationships fell by almost one-third, it found. "

https://www.ft.com/content/7a209a34-7d95-47aa-91b0-bf02d4214764?shareType=nongift

"A €9-a-month ticket scheme is to be introduced from 1 June allowing travel on all modes of city and regional transport. The ticket will apply nationwide and will be available for three months until the end of August."

https://www.theguardian.com/world/2022/may/20/germany-public-transport-boost-9-euro-month-ticket

"The European Commission has raised the spectre of an economically damaging trade war with the UK, pledging to respond with "all measures at its disposal" if Liz Truss presses ahead with a plan to rewrite the Northern Ireland protocol."

https://www.theguardian.com/politics/2022/may/17/eu-raises-spectre-trade-war-if-uk-rewrites-northern-ireland-protocol

UK restaurants and pubs face staffing crisis after Brexit

The hospitality industry is facing a staffing crisis as restaurants and pubs say that up to a quarter of those employed before the Covid-19 pandemic will not return.

https://www.theguardian.com/business/2021/may/01/uk-restaurants-pubs-brexit-staff-covid

Very interesting that according to the article, Gove thinks that the northern Ireland protocol is still being worked out, despite that the Withdrawal Agreement is in place.


https://www.theguardian.com/politics/2020/apr/29/brussels-and-uk-at-odds-over-proposed-eu-office-in-belfast

The UK trying to negotiate a trade deal..

The UK government is now outlining what they are trying to achieve in negotiations with the EU, and frankly I do not see any chance they can get what they want.
Some interesting points:


- Competition and subsidies should not be subject to the final agreement's dispute resolution mechanism..
Note: I see no way the EU is prepared to exclude such a crucial part from the resolution mechanism.


- A separate agreement on fisheries that would allow for annual negotiations

Note: That would set up a fight over fishing every year.


- An agreement on equivalence on financial services to be decided before the end of June.


Note: Again I do not see how that can work without the UK commit to a long term regulatory environment that mirrors the EU or is in sync with EU regulators, especially in regards to tax havens.


https://www.theguardian.com/politics/2020/feb/27/uk-says-it-will-consider-walking-away-from-brexit-talks-in-june

Gove: Border Checks for Trade will be "inevitable"

So much for the legend of "frictionless trade" ... He also calls for businesses to "get ready", which is a bit difficult considering that details of all this won't be known by businesses before autumn earliest.

https://www.theguardian.com/politics/2020/feb/10/checks-on-eu-bound-goods-inevitable-gove-tells-business-leaders

The "Brexit" Ban (Edited)

"Control the language, break reality" by Ian Dunt

From the article:
"Johnson also appears intent on banning the word 'Brexit' itself from government communication. "Brexit is completed," the directive says. "So do not use the term 'Brexit' save as a historical event that took place on 31 January 2020."
https://www.politics.co.uk/blogs/2020/02/07/week-in-review-control-the-language-break-reality

Tusk: EU would be enthusiastic if Scotland applied to rejoin (Edited)

Posting that mainly because I have the feeling some EU politicians are now, after Brexit Day, seem to want to make a point that there are lots of issues ahead for the UK, including Gibraltar and Scotland.

https://www.theguardian.com/politics/2020/feb/02/donald-tusk-eu-would-be-enthusiastic-if-scotland-applied-to-rejoin

Listening Tip: Remainiacs Podcast

A little listening tip for people who want to stay tuned on Brexit/EU matters:

Self-description: "REMAINIACS is the no-bullshit Brexit podcast for people who won't just shut up and get over Brexit. Every week we take an honest look at the unfolding shambles that is Britain's departure from the EU."
https://www.remainiacs.com/

So what do non-Brexiters do on Friday night?
Here is a first list of ideas, though I might just get drunk with some German Whisky.
https://scramnews.com/all-the-ways-remainers-can-mark-31st-january/
More Ideas are welcome.

Opportunistic Brexit-Themed Marketing

I though I share a marketing email I received the other day (see image).

The email had the subject "Let's celebrate our Britishness with wine" Hilariously according to the email, it's all about "England" though, not Britain.

Johnson wants to fix end of transition period in law

https://www.theguardian.com/politics/2019/dec/16/boris-johnson-will-amend-brexit-bill-to-outlaw-extension
While technically a stunt (he could obviously pass another law to extend the transition with his majority) it is also incredible sillyd from the perspective of negotiations. Probably a good hint he will go for any off-the-shelf solution the EU will offer and does not really care.
Additionally, MPs will not get any oversight over negotiations anyway.

Still time to both vote tactically AND get a vote swap to get the Tories out. Use Swap my vote :)

If you're voting tactically (ie. not for your first choice), then why not amplify your vote by swapping who will vote for your preference in a seat where it'll make more of a difference. For example, if you're a lib dem voting tactically in Battersea for Labour, try and find a lab voter in a Con/Lib fight like Richmond Park, Lewes or St Ives. It's almost a 2 for 1 remain deal, do it! https://www.swapmyvote.uk/

Considering what's at stake, strange. Not a single canvasser bothered to come to our house. Only Labour put leaflets through the door, funny enough mainly about Brexit and how much Helen Hayes will fight to remain in the EU. The Leaflet didn't bother to explain Labours "we get a better deal and then do referendum where we might stay neutral" policy.
Anyway, nothing from any other party, not even Greens who are strong around here.
I kind of expected party members to bang at my door every day.

Good morning to you all,





I'm a stranger and I don't understand anything about

to this whole affair:


a) What does BJ hope to have more than what Teresa May had already obtained?


b) is the suspension of the British Parliament legal or can it be likened to a "coup d'état"?





Does anyone know how to explain this to me in a few words?





Thank you .

New group for tactical voting and vote swapping

Hi everyone,

https://www.scooploop.com/groups/sw-london-remainers-group-for-tactical-voting-and-vote/

Hello everyone, I've set up this new group because I wish to explain and encourage both tactical voting and vote swapping in my community. I'm terrified that if party tribalism prevails and people don't think very carefully about whether their vote is wasted in our first past the post system, then we'll end up with 5 years of liar Johnson and a horrendous Brexit. For example, I'm a natural Lib dem voter but don't think they can win in Battersea, so I have swapped my vote for big remainer Marsha de Cordova for a Lib dem vote in Lewes (by a Labour voter and climate activist down there), which hopefully results in two remain seats in Parliament.

I've also spoken to several of my family who are in seats where only the tories will win, so they need to vote swap too, and you can use this site https://www.swapmyvote.uk/.

What I did was find a seat where Lib dems are the only chance to unseat Tories (there are many in Devon/Cornwall I believe) but I happen to know Lewes well. I joined a local facebook group, made my offer of a swap and found a lady I trust completely. It's really quite straightforward and if enough people think about doing this, we can STOP BREXIT! Thank you and I hope you will join and invite your friends in the neighbourhood.

If you have already decided to vote tactically but would also like to express your true political inclination, then you might want to put one of these up in your front window, or the back of your car!

There is also a similar group on Next Door for those of you who are also on that platform. you need to logged in to your ND account for this link to work. https://nextdoor.co.uk/g/gwghqi36q/?is=nav_bar

The myth of "getting Brexit done"

https://www.theguardian.com/politics/2019/nov/25/johnson-sowing-seeds-of-biggest-brexit-crisis-yet-warns-sir-ivan-rogers
This. Johnson's "get it done" policy will mean years of "cliff edge ahead".

So Oliver Letwin ( Ex Tory ) has tabled an amendment for today's vote which basically says this:
- Any vote on the Brexit deal is not a legal approval until all necessary legislation for Brexit has passed.
Despite Letwin being a bit of an odd fellow ( he would vote for Brexit ) this is extremely clever, because if it is accepted it means the Benn Act is still in place ( Brexit Deal has not been approved ) and Johnson needs to ask for an extension this weekend.
It also closes the ERG loophole of voting for the deal today ( hence disabling the Benn Act ) and then next week torpedoing the Withdrawal Agreement to crash out with no deal.